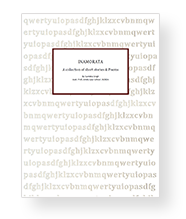 Click Here Download
" INAMORATA "
Author: Dr. Sumitra Singh
(Promoted By: Association for Innovation)
Author Description: (Dr. Sumitra Singh)
Dr. Sumitra Singh is a young, energetic and a literary enthusiast; presently working as an Assistant Professor (II) at Amity University Uttar Pradesh, Noida. She is a Post graduate in English Literature, M. Phil. (Linguistics), MBA (International Business and HR) and a Ph. D. in English literature.She has been a corporate trainer for more than four years. Being the daughter of a Defence officer, she has travelled widely in India and embodies in herself the convergence of pan Indian cross cultures. She has presented around 55 papers in various National and International conferences and has 9 papers published in reputed international journals. She is the reviewer of International research Journal of Humanities, Engineering and Pharmaceutical Sciences.
Product Description:
Title: INAMORATA
Author: Dr. Sumitra Singh
ISBN: 978-93-81713-35-8
Pages: 72
Format: PDF
Language: English
Availability: International
Publishing Date: July 2017
Category: Humanities
Promoted By: Association for Innovation,INDIA
Publisher: Pratima Prakashan, Delhi, INDIA