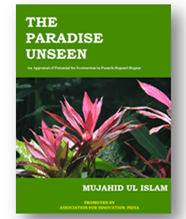 Click Here Download
"THE PARADISE UNSEEN"
Author: MUJAHID UL ISLAM
(Promoted By: Association for Innovation)
Title Description:
Jammu & Kashmir is a hub of tourism in India. Poonch-Rajouri region however has remained unnoticed till now. The present book is an analysis of potential for ecotourism in Poonch-rajouri region. Ecotourism can be a boon to the local economies by providing people with employment and other livelihood opportunities. It is the only sustainable form of tourism. Problems which hinder the growth of tourism have been discussed at length. Certain suggestions have been made for the successful development of ecotourism in the region.
Author Description: (Mujahid Ul Islam))
Mr. Mujahid Ul Islam, an M.A., B.Ed from Aligarh Muslim University, is a Ph. D scholar in the Department of Geography, Aligarh Muslim University, Aligarh. He has qualified UGC-NET and SET/SLET (Jammu and Kashmir) in Geography. He has published many research papers in different International Journals on different problems concerning the society.
Product Description:
Title: The Paradise Unseen
Author: Mujahid Ul Islam
ISBN: 978-93-81713-37-2
Format: PDF
Language: English
Availability: International
Publishing Date: March 2014
Promoted By: Association for Innovation,INDIA
Publisher: Pratima Prakashan, Delhi, INDIA