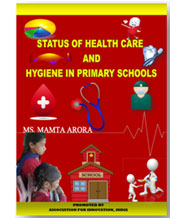 Click Here Download
"STATUS OF HEALTH CARE AND HYGIENE IN PRIMARY SCHOOLS"
Author: MS. MAMTA ARORA
(Promoted By: Association for Innovation)
Title Description:
This book is meant for all category of people i.e. educationist,social workers,policy makers,Public health coordinators & promoters,professionals from different departments.This book aware about health and Hygiene problems in primary schools which is a sensitive issue at national and International level especially in developing countries like India.
Author Description: ( Ms. Mamta Arora)
The author is Associate Professor in Biotechnology at A.S.B.A.S.J.S.M. College Bela Roopnagar. She is coordinator of Internal Quality Assurance Cell of the P.G. College as well as U.G.C. She has done B.Sc., B.Ed. and M.Ed. from Punjab University Chandigarh. M.Sc. from Punjabi University Patiala. She has qualified CSIR NET in Life Science and U.G.C. NET in Education. She has worked for four years in Pharmacy College, Bela and presently working as HOD Biotechnology, PG College Bela. She has got best teacher and best coordinator award 2013 .She has designed syllabus for add on courses and was member of board of study Biotechnology Punjabi University Patiala. She has presented various national and International papers. She has organised various Faculty Development Programmes and Conferences, Seminars etc.
Product Description:
Title: Status of Health Care and Hygiene in Primary Schools
Author: Ms. Mamta Arora
ISBN: 978-93-81713-34-1
Pages: 86
Format: PDF
Language: English
Availability: International
Promoted By: Association for Innovation
Publisher: Pratima Prakashan, Delhi