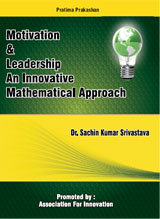 Click Here Download
MOTIVATION & LEADERSHIP-AN INNOVATIVE MATHEMATICAL APPROACH
Author- Dr.Sachin Kumar Srivastava
(Promoted By: Association for Innovation)
Title Description:
For Graduate, Post Graduate (MBA) and Research, Student's of Management for Indian and International Universities
Author Description: ( Dr. Sachin Kumar Srivastava)
Dr. Sachin Kumar Srivastava is currently working at Amity Business School, Amity University, Uttar Pradesh. He has also served at Sahara Arts & Management Academy Lucknow, A venture of Sahara India Group as Faculty Member and MBA
Course Coordinator. He obtained his B.Sc. from University of Lucknow and B.E. From B R Ambedker University, Agra, MBA from UP Technical University, Lucknow, M.Tech. from U.P. Technical University and PhD from University of Lucknow.
Dr. Srivastava has over eight year of Teaching and Industry experience in field of Management and Engineering. He has published more than Eight Research Papers in International Journals like Germany, Republic of Lithuania, Dubai & India etc. He is also a reputed member of several International Associations like IACSIT, IEDRC, PRIMA etc and also in the Programme committee & editorial board of International Journals and Conferences like CICN-2011, CSNT – 2011, ACMC 2012, MIRA 2013, IJIMT, Suraksha Paridrishya, etc. He is also the founder member of Amity Business Journal (ABJ). He is the author of more than three books Supply Chain Management, International Business Environment and Foreign Exchange Economics & POM. His areas of interest are Sales Management, Distribution and Logistics Management, Supply Chain Management and General Management.
Product Description:
Title: MOTIVATION & LEADERSHIP-AN INNOVATIVE MATHEMATICAL APPROACH
Author:Dr. Sachin Kumar Srivastava
ISBN: 978-93-81713-29-7
Pages: 174
Format: PDF
Language: English
Availability: International
Category: Humanities
Promoted By: Association for Innovation
Publisher: Pratima Prakashan, Delhi
Publishing Date: 01 January 2014