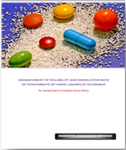 Click Here Download
ENHANCEMENT OF SOLUBILITY AND DISSOLUTION RATE OF FENOFIBRATE BY USING LIQUISOLID TECHNIQUE
Author: Navneet Batra & Avadhesh Kumar Mishra
(Promoted By: Association for Innovation)
Title Description:
Liquisolid technique is a new approach for delivery of drugs through oral route. This technique is suitable for poorly or water insoluble drugs, highly permeable drugs ((BCS Class II drugs) and also for immediate or sustained release formulations. Design of this technique was according to new mathematical model proposed by Spireas et al. Liquisolid technique as a tool for enhancement of poorly water-soluble drugs and evaluation of their physicochemical properties
Author Description: ( Miss Navneet Batra)
The Author is currently working as a scientist in Integrated Biotechnology Research Institute(IBRI), Lucknow, India. 3 International papers & an International book on Process Scale up of Metformin HCL have also been published.
Product Description:
Title: ENHANCEMENT OF SOLUBILITY AND DISSOLUTION RATE OFFENOFIBRATE BY USING LIQUISOLID TECHNIQUE
Author: Navneet Batra & Avadhesh Kumar Mishra
ISBN: 978-93-81713-28-0
Pages: 90
Format: PDF
Language: English
Availability: International
Category: Pharmaceutical Sciences
Promoted By: Association for Innovation
Publisher: Pratima Prakashan
Publishing Date: 03 Nov 2012