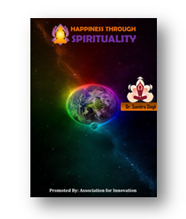 Click Here Download
"HAPPINESS THROUGH SPIRITULITY "
Author: Dr. Sumitra Singh
(Promoted By: Association for Innovation)
Title Description:
Very often we have heard the phrase that "Failure is the opportunity to begin again more intelligently" but students find it difficult to believe on this. It is so because the mindnumbing competition to enter into any Indian Institute of Technology (IITs) or Indian Institute of Management (IIMs) or into any stream of civil services makes them scared of the results. The depression they go into, while preparing for any of the above examination or any other competition gives them vocarious feelings. The fear among the students about their unsure incorrigible standards once after the result comes out is scary and threatening. "Happiness through Spirituality" is a way out for all those students who fear of the outcomes and due to this fear, they are unable to deliver the best out of them. It deals with the tactics which will help, motivate and encourage them to bring the best out of what they are going to opt for. One can raise and improvise the life state and impoverish the stress using aciduous practices as followed in jainism and buddism. The wealth index of a person or a society or a country can be measured on account of happiness they pursue rather than counting the material wealth they have. Further, "Happiness Trough Spirituality" is equally useful to the digressed youth who are unable to find a way; useful for those who seek happiness within rather than those who believe in making the outside situations good for them to be happy. It is awy to make good decisions and develop wisdom to differentiate between right and wrong.
Author Description: (Dr. Sumitra Singh))
Dr. Sumitra Singh is a young, energetic and a literary enthusiast; presently working as an Assistant Professor (II) at Amity University Uttar Pradesh, Noida. She is a Post graduate in English Literature, M. Phil. (Linguistics), MBA (International Business and HR) and a Ph. D. in English literature.She has been a corporate trainer for more than four years. Being the daughter of a Defence officer, she has travelled widely in India and embodies in herself the convergence of pan Indian cross cultures. She has presented around 55 papers in various National and International conferences and has 9 papers published in reputed international journals. She is the reviewer of International research Journal of Humanities, Engineering and Pharmaceutical Sciences.
Product Description:
Title: Happniess Through Spirituality
Author: Dr. Sumitra Singh
ISBN: 978-93-81713-32-7
Pages: 100
Format: PDF
Language: English
Availability: International
Publishing Date: July 2014
Category: Humanities
Promoted By: Association for Innovation,INDIA
Publisher: Pratima Prakashan, Delhi, INDIA